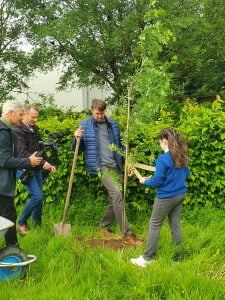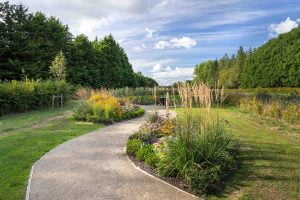 Over 35 pupils from St. Senan's National School, in Shannon, took part in a tree planting ceremony during official opening of to officially celebrate the launch of Shannon Group biodiversity garden. The new garden, which is open to the public, is located on the Shannon Campus near the entrance to the Shannon Free Zone and Shannon Airport.
Biodiversity Garden Features:
Wildflowers Lawn: In this area, the grass is cut less often to allow for wildflowers to bloom and provide nectar and pollen for bees, butterflies, beetles and many more insects. Some of the species of flower planted in the garden that are native to Ireland are: Wild 'Shamrock' Clovers, Shamrock, Bog Rosemary, Easter Lily, Sheep's-Bit, Spring Squill, Cowslips and Red Clover.
Wildflowers Meadow: In this area, the grass is cut once per year to allow the taller wildflowers to bloom and provide a source of nectar for pollinators. The long grass is also an ideal habitat for small animals such as frogs, mice, and hedgehogs.
Waterway: This garden is surrounded by two canals designated to drain the original marshlands during the construction of Shannon Airport. A nearby water source is vital to any natural area supporting plants and animals.
Log Pile: In natural woodland fallen trees provide a shelter for many insects and fungi species. We have created this log pile to recreate that environment and attract local species to move into this habitat.
Bee & Bug Hotel: Designed to provide stylish home for some of our native solitary bees with bee bricks and locally sourced native reeds and other infill materials such as cones, moss and twigs.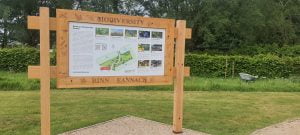 You can read more about opening day here.